Days of Our Lives
Days of Our Lives Recap: Monday, September 11 – Sarah's Baby Name – Vivian Kicks Everyone Out of Kiriakis Mansion
Days of Our Lives (DOOL) spoilers recap for Monday, September 11, reveals that Brady Black (Eric Martsolf) warned Alex Kiriakis (Robert Scott Wilson) that Theresa Donovan (Jen Lilley) had a talent for finding trouble, but Alex didn't mind and felt that was something they had in common.
Brady argued that Alex's trouble wasn't at the same level as Theresa's and gave some examples, but Alex still didn't seem all that concerned.
Meanwhile, Theresa ran into Stephanie Johnson (Abigail Klein) and Kayla Johnson (Mary Beth Evans) outside the pub, so they shared a family reunion.
Theresa talked about being in town for Victor Kiriakis' (John Aniston) funeral and how Brady acted like she crashed it, but Kayla suggested there was a far worse crasher since she heard Vivian Alamain (Louise Sorel) showed up.
At the Kiriakis mansion on Monday's Days episode, Justin Kiriakis (Wally Kurth) couldn't reach the county clerk by phone, so he decided to go get proof of Victor and Vivian's divorce in person.
Near the mausoleum, Sarah Horton (Linsey Godfrey) was hemorrhaging after giving birth.
What was on ABC's Days of Our Lives Monday September 11 episode?
Xander Cook (Paul Telfer) took the baby in his arms as Sarah urged him to take care of their little girl, so Rex Brady (Kyle Lowder) looked worried over the comment.
After Sarah lost consciousness, Rex determined that she was in bad shape and got Chloe Lane (Nadia Bjorlin) to bring his car around so he could take Sarah to the hospital.
Inside, Chloe told Maggie Kiriakis (Suzanne Rogers) about the birth and Sarah's ER trip, so they headed over to the hospital, too.
Later, Kayla offered some positive updates regarding Sarah's condition.
Although Sarah suffered from placenta accreta, she responded well to treatment and was expected to make a full recovery.
Since Kayla had to rush off and deal with another emergency, Xander brought Sarah her baby girl once she was awake and alert.
Sarah was grateful for all Xander's help and ultimately decided to name the baby "Victoria Margaret" after Victor as well as Maggie.
Instead of coming clean to Xander about the paternity, Sarah claimed she couldn't remember what she wanted to tell him earlier.
Xander guessed it couldn't be that important and congratulated Rex on being a father.
Once Xander was gone, Sarah reflected on everything she went through after Xander's baby swap and all the confusion about Mackenzie "Mickey" Horton.
Although Xander's heart was in the right place, Sarah seemed haunted by his mistakes and knew she was making the right decision.
Since Sarah remembered the pain of having a child ripped away, she assured Rex that she wasn't second-guessing her decision and vowed not to do that to him.
Back at the Kiriakis mansion Monday's DOOL show, Bonnie Kiriakis (Judi Evans) made it clear that she thought Vivian's marriage scam was all about money.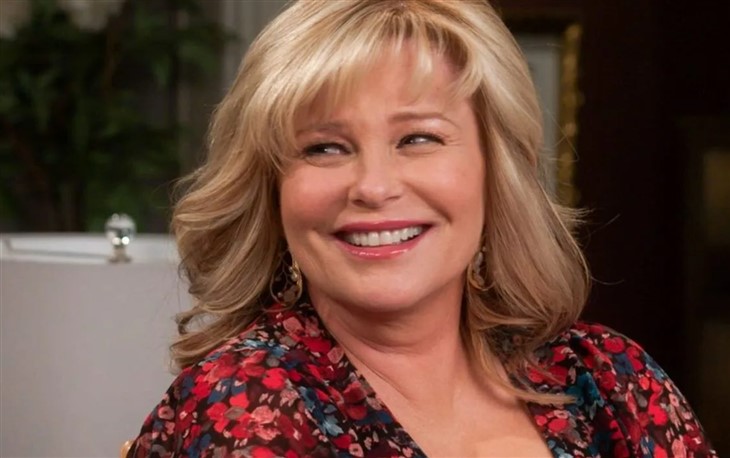 Vivian acted like she could say the same about Bonnie pursuing Justin, but Bonnie insisted that was about love.
As Vivian got a little weepy, she grumbled about nobody believing that she also loved Victor.
After Justin shared the news about Vivian's claims in the town square, Alex and Brady mulled over the weird situation.
Since Victor had his will destroyed and made the call from Greece according to his lawyer, Brady suggested to Alex that they should go there and get answers.
At the pub again on Monday's Days episode, Theresa admitted to Stephanie that she wanted to stick around Salem for a while despite Brady's rejection.
Stephanie was stunned to learn Theresa had been flirting with Alex and that she was interested in pursuing him.
Once Stephanie confessed she previously had a thing with Alex, Theresa offered to back off.
However, Stephanie insisted that was all in the past and that Alex was just a friend since she was happy with Chad DiMera (Billy Flynn) now.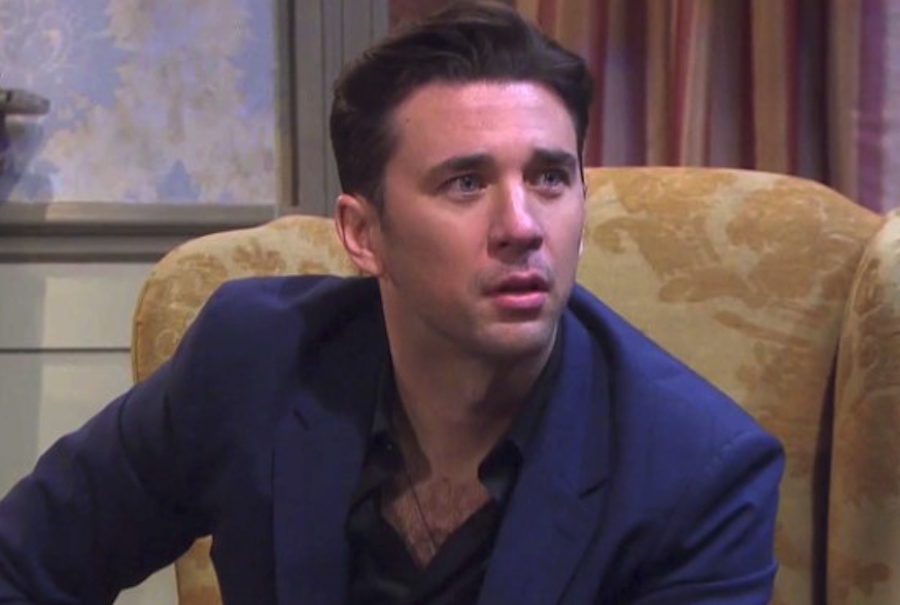 Although Stephanie seemed uneasy about Theresa's motives, Theresa wondered if she could get Alex's phone number.
After Theresa called Alex on Monday's Days episode, she hoped they could set up that dinner date she mentioned earlier.
Alex said he had to go out of town and that it was a sudden thing since he was going to Greece with Brady.
That left Theresa with a devious smile on her face since she was obviously intrigued.
Finally, Justin returned to the Kiriakis mansion and admitted that Victor's divorce from Vivian was never finalized.
Vivian was pleased over having her claims proven, so she urged Maggie and all the others to get out of her house!
Days of Our Lives spoilers say Vivian will cause even more drama as her latest DOOL stint continues, so stay tuned.