The Bold And The Beautiful recap for Wednesday, November 15, 2023, indicate that Ridge Forrester (Thorsten Kaye) is still with Steffy Forrester (Jacqueline MacInnes Wood) and Thomas Forrester (Matthew Atkinson).
Steffy would have never left town if she had known. Thomas isn't ready to lose Eric Forrester (John McCook). Katie Logan (Heather Tom) and Donna Logan (Jennifer Gareis) try to talk Eric into taking a break.
Eric is going into the office and putting his feet up on his desk. Brooke Logan (Katherine Kelly Lang) stops by.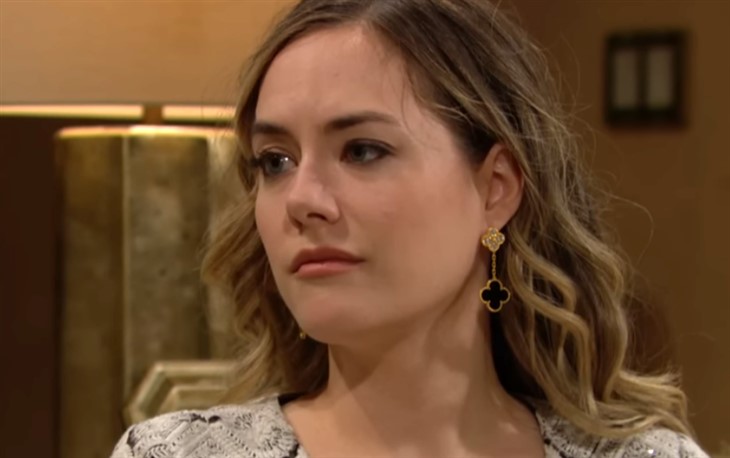 The Bold And The Beautiful Recap – Hope Logan Learns The Truth
Eric leaves for the office and Brooke tells Donna and Katie that Ridge told Steffy and Thomas the truth. Donna understands why Ridge told the children.
Donna says Eric cannot know that they know the truth. Hope Logan (Annika Noelle) arrives looking for Eric and Brooke tells Hope the truth.
Hope doesn't understand how this could be happening. Eric has been doing so well. Hope says this is what RJ Forrester (Joshua Hoffman) started working with Eric.
Eric doesn't want anyone's pity. Hope believes he should let everyone support him.
Brooke tells Hope that Thomas and Steffy know. Donna says that Eric wants to live until he dies. Eric is happy. Eric is on fire and he wants to work until the end. He wants smiles, laughter, and love.
B&B Recap – Eric Forrester Reminisces With His Grandchildren
The Bold And The Beautiful spoilers reveal that Thomas asks if they are really supposed to keep this secret. Carter Walton (Lawrence Saint-Victor) demands answers from Ridge.
Ridge tells Carter that he wants his dad to be happy. Carter keeps pushing for an answer. Ridge starts to tell Carter the truth when Eric walks in. Eric doesn't want anyone behind his desk.
Eric tells Ridge that he forced him to bring his A-game. Eric believes that Steffy and Thomas are speechless because he beat Ridge.
Ridge says Eric gave him everything that makes him great. Eric doesn't want to relax and do nothing for the rest of his life. Life is meant to be lived and Eric is determined to do just that.
Eric says time stops for no man and he isn't going anywhere soon. Eric says the showdown was fun.
Thomas brings up a project for school years ago. Thomas says Eric is always eager to help, he is thoughtful and caring, and always eager to help.
Steffy talks about Eric always being a light in their family. Steffy says Eric always made time for her and she still looks up to him.
Steffy thinks part of their connection is because she is her grandmother's namesake. Eric says everyone gets their fearlessness from him, the great Eric Forrester.
The Bold And The Beautiful Recap – Carter Walton Wants Answers
Carter goes to handle some orders but makes it plain to Ridge that he expects an explanation. Carter knows how excited Ridge was when he found out he won the challenge.
Ridge wanted to tell Eric the truth himself. Carter was stunned when Eric was announced the winner and he needs to know what is going on.
Steffy and Thomas didn't let him in on the truth either. Will Ridge confess the truth and swear yet another person to secrecy?
How long will it be before Eric realizes that everyone knows what is going on with him?
Be sure to catch up on everything happening with B&B right now. Come back here often for The Bold And The Beautiful spoilers, news, and updates.