General Hospital
General Hospital News: Tabyana Ali Needs More Confidence In Her Love Scenes
It's certainly not easy getting up close and personal with someone that you just began dating, let alone trying to get up close and personal with a co-star in front of the cameras!
That said, it's no wonder General Hospital star Tabyana Ali needed a little extra support from one of her co-stars as she was trying to build her confidence in filming love scenes with actor Nicholas Chavez (Nikolas Cassadine).
Luckily for Tabyana, she got the support from not just one co-star, but two. Keep reading below for everything you need to know.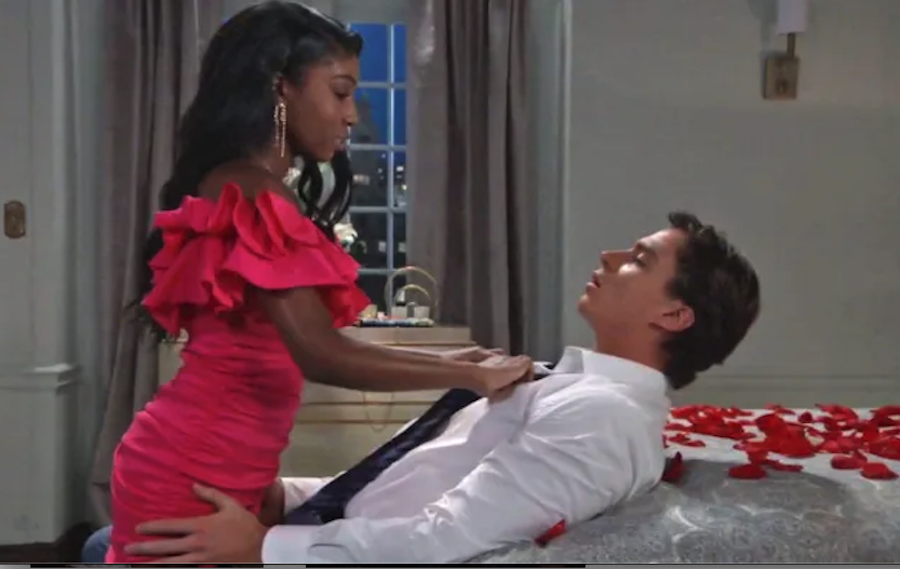 General Hospital News: Tabyana Ali Needs More Confidence In Her Love Scenes
While Tabyana has certainly been knocking it out the park as Trina on General Hospital, she needed a little more assurance while she was shooting her first love scene.
Actually, it was her first love scene ever during her career. Thankfully, both Eden McCoy (Josslyn) and Avery Pohl (Esme) were there to give her all of the tips that she needed.
In a new interview with Soap Opera Digest, Tabyana credits Eden for being very helpful and giving her the tips that she needed. Not only that, but she also said that Eden was there to tell her that she looked pretty and that she needed to keep her chin up.
The actress put it this way, "She actually got to be there [on set] for a second and I was so happy because I just love her and really, anytime that I get to see her, I'm smiling and giggling.
Avery gave me even more tips than Eden did. Beforehand, she was like, 'Just be confident in yourself, be grounded in yourself, know that this is not you, this is Trina.'"
General Hospital News: What's Next For Trina And Spencer?
Not only that, but both co-stars said that after the scene was done, they told Tabyana to take a little time off to be by herself. And it absolutely worked, too.
Thankfully, Tabyana also had a lot of fun filming her first love scene, too. We are sure it helped that she had a wonderful co-star like Nicholas Chavez by her side to help calm her jitters, too!
Tell us, what do you think of this story? Drop us a line in our comments section below with your thoughts.
Also, don't forget to come back right here for all the latest news and gossip about all of your favorite British royals, Hollywood actors, and reality television stars. We've got you covered.