General Hospital
General Hospital Spoilers Monday, November 20: Esme & Adam Are Lured Into Joining Cyrus' Cult
General Hospital spoilers for Monday, November 20, 2023, are in. Fans can expect Josslyn Jacks (Eden McCoy) to help Adam (Joshua Benard). However, this could be a big mistake.
General Hospital Spoilers Highlights
Plus, Alexis Davis (Nancy Lee Grahn) counsels Hamilton Finn (Michael Easton). Alison "Blaze" Rogers (Jacqueline Grace Lopez) has an invite for Kristina Corinthos-Davis (Kate Mansi).
Ned Quartermaine (Wally Kurth) is annoyed with Michael Corinthos (Chad Duell) and Drew Cain (Cameron Mathison). Plus, Carly Spencer (Laura Wright) makes a decision about Nina Reeves Corinthos' (Cynthia Watros) Metro Court offer.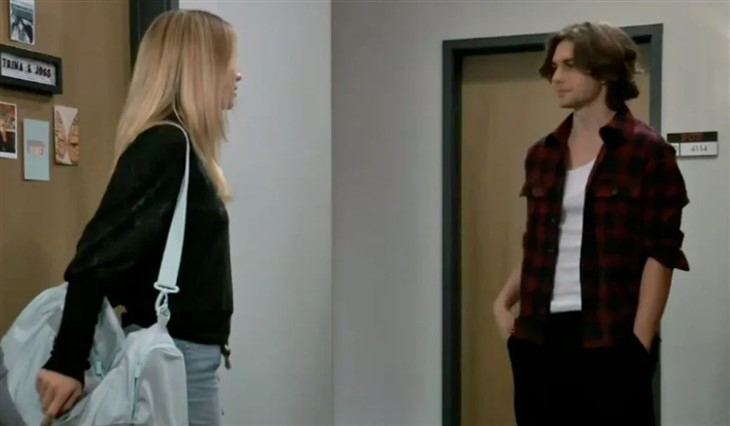 General Hospital Spoilers – Josslyn Jacks' Mistake
GH spoilers for Monday, November 20 reveal that Josslyn will decide to help Adam. Josslyn was already cautioned by Dex Heller (Evan Hofer), who sees Adam as obsessive and maybe even dangerous. However, Josslyn thinks that Adam is just under a lot of pressure to succeed in school by his parents. So, Adam didn't take it very well when Josslyn refused to help him study again.
In Monday's episode, will Josslyn's decision to help Adam be a huge mistake?
GH Spoilers – Ned Quartermaine's Irritation
On Monday, November 20, fans can expect Ned to continue trying to get his life back. Even though Ned didn't technically go anywhere, "Eddie Maine" had completely different goals, both personally and professionally.
One of Ned's goals now that he's back to himself is to get back his shares of ELQ. However, Ned will face some complications. In fact, Ned gets downright annoyed with both Drew and Michael.
General Hospital Spoilers – Carly Spencer's Decision
General Hospital spoilers for Monday, November 20 reveal that Nina did as Michael ordered. After Carly caught Nina in a hushed conversation with Michael Grey (Michael E. Knight), an offer was made.
However, Carly was suspicious of why Nina would sell her back the Metro Court now. Then, Carly spoke with Sonny Corinthos (Maurice Benard).
Carly also spoke with Michael and Willow Tait Corinthos (Katelyn MacMullen). Now, in Friday's episode, Carly told Willow and Michael that she was going to reject Nina's offer.
Carly confessed that she would love to have the Metro Court back, but she needs to get it on her own.
In Monday's episode, Carly will finally make a decision. Will Carly have a last-minute change of heart? Will someone come through and "help" Carly get the Metro Court on her own? Or will Carly continue to reject the proposition?
GH Spoilers – Monday, November 20
On Monday, November 20, fans can also expect Blaze to invite Kristina to her recording session. Plus, Alexis will counsel Finn. What will happen now that Finn is facing every doctor's worst nightmare… a wrongful death lawsuit?
Which storyline are you looking forward to seeing the most on Monday, November 20? What are your predictions for Carly, Drew, Sonny, Nina, Michael and Ned?
What does the future hold for Blaze, Kristina, Alexis, Finn and the rest of the Port Charles residents? Share your thoughts in the comment section below. Remember to keep watching the soap on ABC to find out what happens next.
Be sure to catch up on everything happening with GH right now. Come back often for General Hospital spoilers, news, and updates.