The Young and the Restless spoilers say the infamous Aunt Jordan will make her big debut after only appearing on phone calls for the past month. Since Claire Grace (Hayley Erin) arrived in Genoa City, she has been taking orders from Aunt Jordan. But, up until now, Aunt Jordan didn't even have a face.
The Young and the Restless rumors and fan theories went crazy with possibilities over Aunt Jordan's identity. A large number of CBS soap viewers were convinced that the reason we haven't been showed Jordan's face is because it was someone we already knew, or one of the main characters' long lost twins.
The Young And The Restless Spoilers  – Aunt Jordan's Face Revealed
But, all of those Y&R fan theories can be laid to rest.  Soap spoilers can confirm that Aunt Jordan is an entirely new character that we have not met in the past, or even knew existed up until now.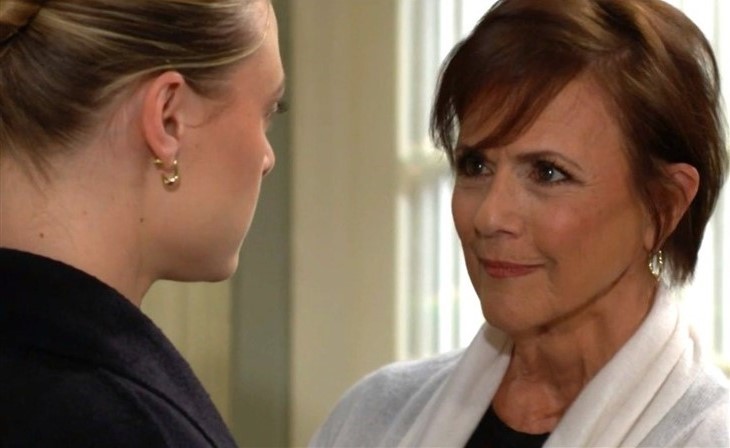 However, that doesn't mean that Aunt Jordan is not related to someone that we know from the Newman Family's past.
According to The Young and the Restless spoilers, soap star Colleen Zenk has joined the cast as Aunt Jordan. The actress may look familiar to you if you were a fan of As The World Turns.
Zenk played the part of Barbara Ryan for 32 years on the now cancelled daytime drama.  She also appeared in a couple episodes on the web series "Tainted Dreams," alongside a lot of her old ATWT co-stars.
Y&R Spoilers – As The World Turns Star Joins The Young And The Restless Cast
So far it is unclear how long Aunt Jordan will be on The Young and the Restless.  Her official first air date is slated for November 17th.
It's unlikely that she and Claire Grace will be around on a permanent basis, but we won't be able to say that for sure until we know how Claire and Jordan are linked to the Newman Family.
What do you think of aunt Jordan?  Were you a fan of Colleen when she was on As The World Turns?
Let us know in the comments below and keep checking back here for more The Young and the Restless spoilers, news, and updates.